DFO's Real-Time Arctic Ocean Observatory
Global warming is having a dramatic impact on the Arctic region. Changes include a rapidly shrinking Arctic Ocean ice cap, longer open water periods within the Canadian Archipelago, and warming trends in ocean temperature. These changes put pressure on the Arctic ecosystem which is vitally linked to this changing physical environment. Scientists are working to understand this linkage so that growing Arctic transportation and resource development interests can be responsibly managed in the face of climate change. One valuable tool to achieve this goal is a system that can provide oceanographic and sea ice data in real time from remote Arctic sites.
Lancaster Sound is the eastern entrance of the fabled Northwest Passage, the principal transportation corridor through Canada's high Arctic. Just west of Lancaster Sound the passage narrows to a width of 55 km at Barrow Strait (Figure 1). Here strong easterly flow over the Southern half of the strait in summer and fall carries ice exiting the Arctic from the west, which keeps ship traffic to the northern side. A short and variable ice-free period on the northern side also presents challenges to mariners though. Availability of up-to-date information on ice and ocean conditions in this important shipping lane is of practical value to Arctic marine operators. These data are also useful for input into computer models used to forecast sea ice conditions, as well as for the validation of those models.
Real time data also offers a near-term predictive capability if there is already sufficient knowledge of the physical and biological system in the area of interest. A long term moored instrument array has been maintained across the eastern end of Barrow Strait since 1998 as part of a climate change study. These data show that from year to year there are big differences in average ocean salinity and temperature, the timing and duration of open water, and biological productivity. Our analyses show that these differences are closely connected. For example, when early summer water temperature is warmer than usual, ice break-up and fall freeze-up both occur earlier in the year. Furthermore, the date of fall freeze-up is very tightly linked to late summer ocean salinity. This particular connection is so tight, the real-time salinity measurements provided by the observatory are being used to predict freeze-up in this area to within three days, weeks before it occurs.
In addition, the timing of the zooplankton growing season and the total biological productivity for the year are closely linked to early summer water temperature. This suggests that real time monitoring of water column temperature may also be used to predict seasonal ecosystem productivity. This may be of special significance at this location, which is at the western border of Environment Canada's new National Marine Conservation Area.
A prototype real time oceanographic data observatory was installed in northern Barrow Strait in 2011 (Figure 2). The system presently installed consists of three components:
An acoustic telemetry link that passes ice drift, current, acoustic backscatter (zooplankton) and water property data from instruments on a sub-surface mooring to an underwater hub;
A sub-sea cable that carries data from the hub to a shore station, and
A two-way satellite link that transmits the data from the shore station to the scientist.
The real-time data received (Figure 5) are being used to monitor and predict the evolution of the ice cover for the improved safety and efficiency of Arctic marine operations, to provide data for ice/ocean forecast models, and to provide a technology that may be applicable to other strategic Arctic locations. Barometric pressure is also available in real-time where the cable comes ashore (Figure 7). Planned future expansion of the system includes the addition of ice thickness measurements, upper water column physical and biological data, and data from acoustically linked instrumented moorings located further offshore.
Barrow Strait Observatory data
Barrow Strait Observatory data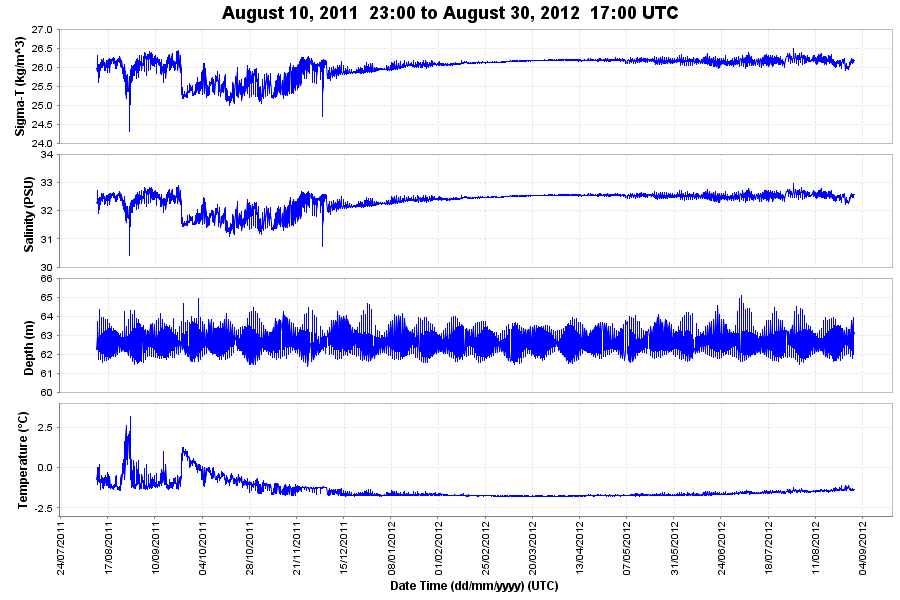 Barometric Pressure from the observatory shore station
Date modified: